We are in high demand for our photo booth rentals, especially in the Los Angeles area and San Fernando Valley! (Looking at you North Hollywood..) so our writer here convinced us to post this up, it will also help one of our photographers incase she misses a few equipments lol.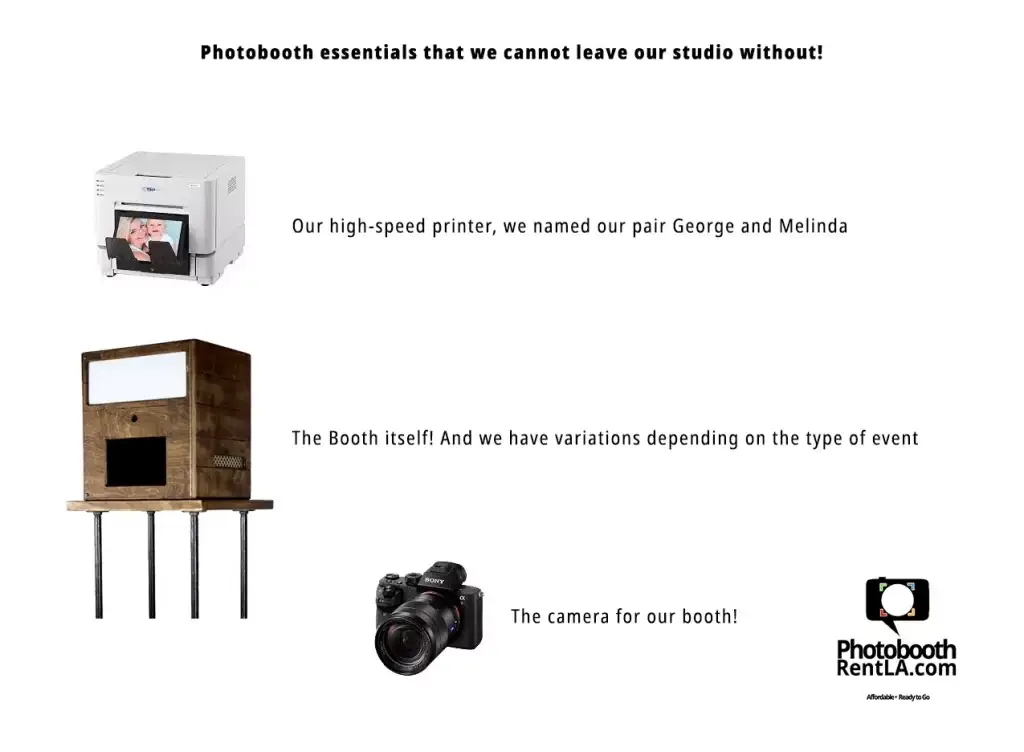 What do you need to operate an open-air photo booth?
FIRST OFF! A high-speed printer, usually a DS-RX1HS does the trick. A sublimation printer can usually print photos in under 10 seconds!
We'll expand more here from the simple list above… But the next is An awesome touch tablet or computer. 2020 models are fast enough to run a photo booth software such as Sparkbooth.
An enclosure if desired. A skilled carpenter or frame maker can usually construct this! Make sure the dimensions are correct to accommodate both your touch-tablet and DSLR camera!
The camera you'll need for your booth! Simply ensure that the photo booth software you purchase is compatible with the DSLR of your choosing. A decent quality camera can wow your clients because you can also give digital versions as a bonus or for a fee. We normally do it as a complimentary bonus, but it depends on the size of the event!
The cabling! Remember to keep these crucial items in mind; you can typically fit them all inside your enclosure! However, these are really significant because they will allow you to communicate with your printer, camera, and touch-tablet!
Last but not least, lighting! Expect to be able to harness or control the power of light if you participate in more activities!
A robust lighting backup will benefit you tremendously if your open-air photo booth is extensively customized. When it comes to photography, you'll discover how crucial lighting is. Oh, and you're not simply a booth operator; technically, you're a photographer!
Well! So if this did not overwhelm you then more power to you!! But if it did and if your event is actually closer (inside 30-days) then why not give us a quick call? Let's get you a free photobooth quote, click the button below!